Every year bunch of students gets registered for MDCAT. This year is also the same with an increased number of students. Now, students are eagerly waiting for MDCAT registration 2023. The exact date is yet to be announced.
The MDCAT 2023 Registration is Open Now started from 17 July to 31 2023. Scroll down to Start registration. Prepare your test according to the MDCAT Syllabus 2023 for remarkable success.
Below you will find a complete guide about registration for MDCAT 2023. Follow the below given steps to get yourself successfully registered.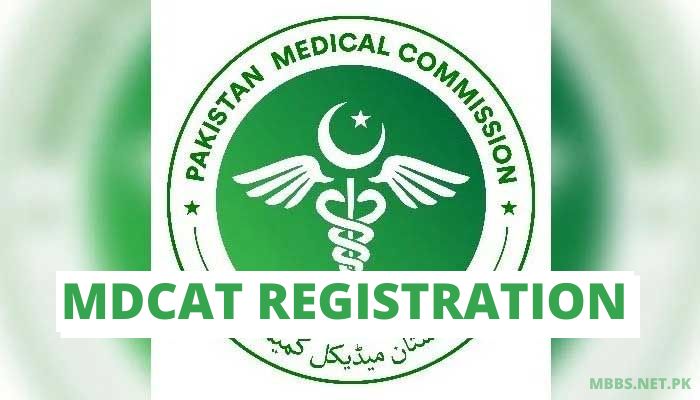 Who Can Register For MDCAT 2023?
According to the latest Admission Regulations of the Pakistan Medical & Dental Council (updated on July 14th, 2023), in order to be eligible for admission, candidates need to meet certain criteria. They must have successfully completed their intermediate/HSSC Pre-Medical Group or an equivalent examination (such as A-Levels, 12th Grade, etc.), and obtained a minimum of 55 percent unadjusted marks (650/1100). It's worth noting that candidates who are waiting for their examination results are also allowed to apply. This provision allows prospective students to apply for admission even if they haven't received their final examination results yet.
MDCAT Registration Date 2023
MDCAT 2023 registration is Now Started. Knot your ties and start preparing for your exams. With increased merit each passing year, it has become difficult for many students to be on merit. With Allah's name get yourself registered and try your luck this ear too. If you are looking for the best book for MDCAT Preparation, We recommend you to purchase National MDCAT Book for good Marks.
Place your Order Today & Get 20% Discount
Get the Latest Edition of the National MDCAT Book 2023 Edition. Recommended by the toppers for Quick revision [Prepare MDCAT Within 30 Days]. Place your Order below. Home Delivery within 24 hours.
For Quick revision Get the Book.
Practice as Much As you can.
MDCAT Book Question Bank is very Important for Quick Practice.
Below given are the steps for registration. Follow each step for successful registration.
Complete MDCAT Registartion Process
The registration process is online.
Go to PMC's official website.
Sign up for the account.
On the side of a menu bar, click on the registration button.
Fill out the form with each necessary personal information and upload the required documents as well.
Re-check your documents.
Re-read your form carefully for the correction of mistakes.
Click on the submit button.
The serial number will be given to you. Note that serial number for future use.
Now the computer will generate an online bank challan form.
Print out that challan form and submit it to your nearby bank(ABL, HBL, MCB) with RS 3000/-
Scan the copy of the fee challan. Now login to your account again and then upload that scanned challan copy.
Once you have uploaded that scanned copy. Now click on the submit button.
Within 72 hours, you will receive an E-mail having your roll number.
Print out that mail/ admittance card
Documents Required
Domicile
Current Picture
CNIC or B Form
Matric Result Card
FSC Result Card
Eligibility Criteria For MDCAT Registration 2023
Minimum 65% in Pre-Medical FSC with the subjects Biology, Physics, Chemistry, and English.
Foright Pakistan Nationals can also get themselves register.
A Student Must be From Punjab and Balochistan Provice.
Those waiting for results can also apply.
Conclusion
In this blog, we have tried our best to give you a complete guide about registration for MDCAT 2023. You can follow the above-given steps for successful registration. Keep visiting our website for the exact date of PMC registration 2023.
For any queries comment down below. Your precious views will be appreciated.
General FAQS
MDCAT registration for 2023 is open?
As per sources, the date for the registration of MDCAT 2023 will be announced 2 to 3 months after the national MDCAT. The exact date will be announced soon after the PMC meeting.
Is a Juvenile card necessary for MDCAT?
No applicant will be permitted to appear in MDCAT if he/she does not have CNIC or Juvenile card. On the other hand, overseas students can apply with passport POC or NICOP as an alternative to CNIC or Juvenile cards.
What is the last date for MDCAT 2023?
The last date expected for MDCAT 2023 is 30th August to September. The final date will be announced soon.
How many students registered for MDCAT last year?
Last year the estimated record of students was 194,133 as per PMC in October 2022.
What can I study for remarkable success in MDCAT?
You can study from PMC national mdcat syllabus 2023 pdf form. You can download this or can buy this book from our website. This book is recommended by the toppers.