The PMDC National MDCAT Syllabus for 2023 is Announced. The first phase of MDCAT will start from 15 August to 30 August. The second phase will start on 5 September and will last till 20 September. To clear MDCAT a student must get 60% Aggregate to get admission to MBBS.
Note: The MDCAT Paper will be conducted on the 10th of September 2023.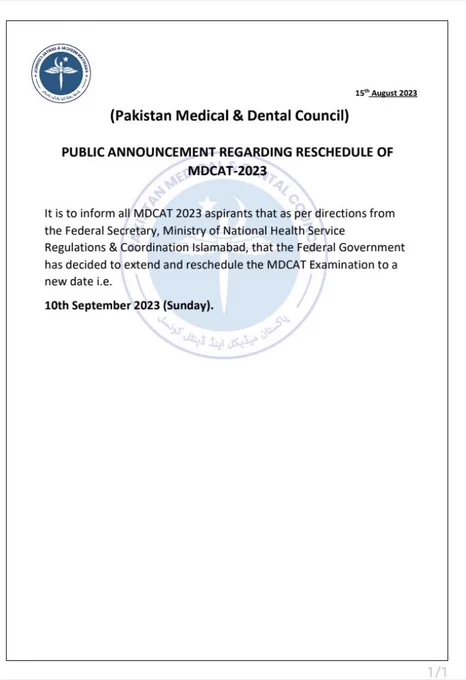 All the candidates have to submit their application forms before the prescribed deadline. The application form for MDCAT can be downloaded from the official website.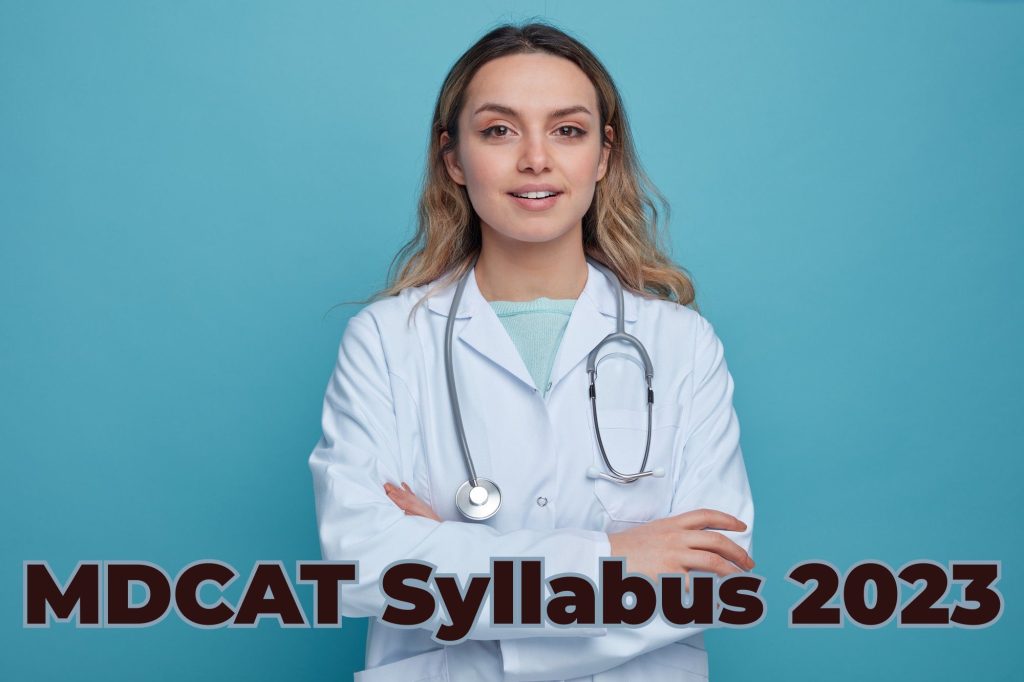 PMDC National MDCAT Syllabus 2023
Good News for all the MDCAT students. The Latest MDCAT Syllabus is out. This time the PMDC has reduces the syllabus by removing some topics. Here is the new revised MDCAT Syllabus available for you to download in PDF.
Place your Order Today & Get 20% Discount
Get the Latest Edition of the National MDCAT Book 2023 Edition. Recommended by the toppers for Quick revision [Prepare MDCAT Within 30 Days]. Place your Order below. Home Delivery within 24 hours.
For Quick revision Get the Book.
Practice as Much As you can.
MDCAT Book Question Bank is very Important for Quick Practice.
MDCAT Syllabus PDF Download
PMDC (Pakistan Medical Commission) conducts MDCAT each year. The first phase of MDCAT will start from 15 August to 30 August. The second phase will start on 5 September and will last till 20 September.
The Latest MDCAT Syllabus is available in PDF for all the students to download. Just click on the download button given below to automatically download the syllabus. Also, stay tuned for upcoming information regarding the MDCAT syllabus. Because there are little fluctuations in the syllabus by the officials each year.
Students find it difficult by changing each year's syllabus. We are here to provide you with the official national MDCAT syllabus. Download the National MDCAT Book 2022 Edition from the link given above and start your preparation regarding the syllabus in order to gain remarkable success.
Pakistan Medical Council (PMDC) has designed criteria to gain admission to medical and dental colleges by attempting and achieving an extraordinary percentage in MDCAT. It is obligatory for the students seeking admission to medical and dental colleges to attempt that paper. Otherwise, they won't get admission to the medical field.
MDCAT stands for medical and dental college admission test and is conducted by the University Of Health Science (UHS). Every year, MDCAT is conducted on a scheduled date and time. Hardworking and intelligent students get admission to their favorite medical or dental college. And obviously, luck matters a lot.
Most of the students attempt MDCAT up to 5 times to try their luck. So, no need to worry. Study hard and try your luck. Who knows this year might be yours. May Allah (S.W.T) grant success to all those participating and attempting this year.
National MDCAT 2023 Date
Last year MDCAT was going conducted in three phases due to the COVID outbreak.
15th to 31st August
5th to 20 September
30th September
This year the MDCAT 2023 date with be posted soon after being announced by the officials.
Note: PMDC will conduct National MDCAT 2023
— Pakistan Medical Commission (@pmc_org) April 21, 2022
Many students get confused about the merit criteria. To make it clear for you, 10% of your matric result, 50% of your FSc result, and the remaining 50% of your MDCAT are calculated for merit. Students having the highest percentage in all three phases obviously stands on merit.
MDCAT Recommended Books By UHS
Students should go for recommended books for their preparation because tests conducted will be made for that outline only. So, you should thoroughly study those books. Recommended books for MDCAT are Punjab Text Books and National MDCAT Book. These are mentioned below.
Biology
Physics
Chemistry
English
A test paper will include a total of 210 MCQs. A specific number of multiple choice questions having four options will be given. You need to mark the right answer. If wrong 1 number will be deducted from your grand total.
Note 1 number deduction for 1 wrong attempt only.
Below given are the number of MCQs per subject.
| | |
| --- | --- |
| Biology | 68 |
| Physics | 56 |
| Chemistry | 56 |
| English | 20 |
| Logical Reasoning | 10 |
Logical Reasoning has been introduced as an additional part of the entry test. This is only included to check the ability of a student. To solve the logical reasoning section, a paragraph is given, which you have to thoroughly read and then give the answers to below given questions linked to that paragraph.
Shortly, you will have to solve the scenario. This portion checks your cognitive ability, and how sharp you are at understanding a sudden scenario. Because this is much needed in the medical field.
National MDCAT Policy
National MDCAT involves the students across Pakistan. But, MDCAT is limited to each province only, because of differences in syllabus, pattern, and paper attempt. The goal was to make the students stand under one roof as being Pakistani.
But, this is not possible for now. But, for making this possible, officials should include the syllabus that is common in all provinces. Then no one would be able to say that specific parts of students are favored.
Federal Board has its own setup for conducting entry tests to medical and dental universities. Entry test syllabus is firstly provided and then students go for their test on conducted date and time.
Why MDCAT is needed?
MDCAT is needed to check the student's ability within a limited period of time in order to ensure their sharpness, basic knowledge, and basic medical knowledge. It is the basic step to ensuring admission to medical universities. After successfully passing the national MDCAT, you would be able to apply to more than 150 medical colleges across Pakistan.
Conclusion
In this blog, we made sure to give a complete guide about the syllabus, dates, and recommended books. Now, it is clear where to study to fulfill your dreams. Go and buy National MDCAT 2022 Edition. Study hard. May Almighty grant success to each of you attempting.
General FAQS
Is MDCAT Registration 2023 Open?
No, their registration is not open yet. Their registration will begin soon after the intermediate exams.
Does the MDCAT syllabus change each year?
Yes, there are slight variations in the syllabus each year. Stay tuned to mbbs.net.pk for the final syllabus.
Which book is best to study for MDCAT 2023 preparation?
You should go for the recommended books by previous toppers named National MDCAT 2023 Edition. You can also buy this Book from our website.
What is the date of MDCAT 2023?
The exact date is yet to be announced. But, the circulating date is between 30th August to 30th September.
Is there any negative marking in the upcoming MDCAT?
Before the COVID outbreak, there was a negative marking on the entry test. But, during COVID a policy was changed. There was no negative marking last year. But, this might happen this year is not confirmed yet.
Can I fail in the National MDCAT?
Yes, if you secure less than 60%, you fail.
I have 80% marks in FSC, am I eligible for MDCAT?
The eligible criteria to appear in MDCAT is having 70% in FSC. So, yes you are eligible.
What is the difference between MDCAT and National MDCAT?
National MDCAT is conducted by PMDC all over Pakistanis. MDCAT is limited to each province only.
Is MDCAT difficult?
It is difficult for some and easy for many. Depends on your preparation only. Study hard to get a good percentage on the entrance test.