Sale!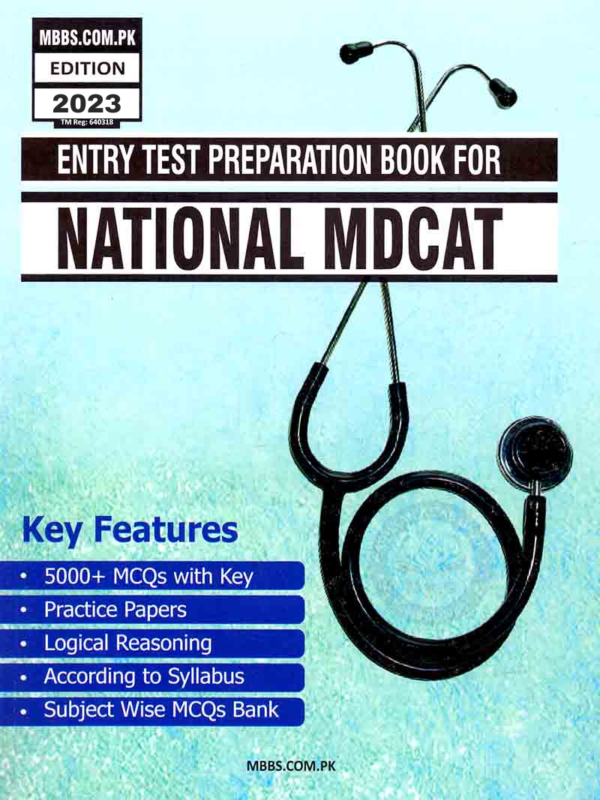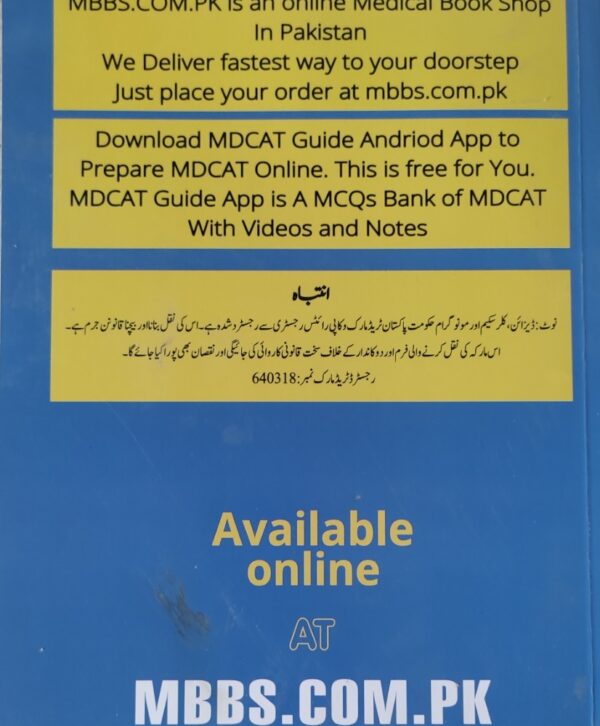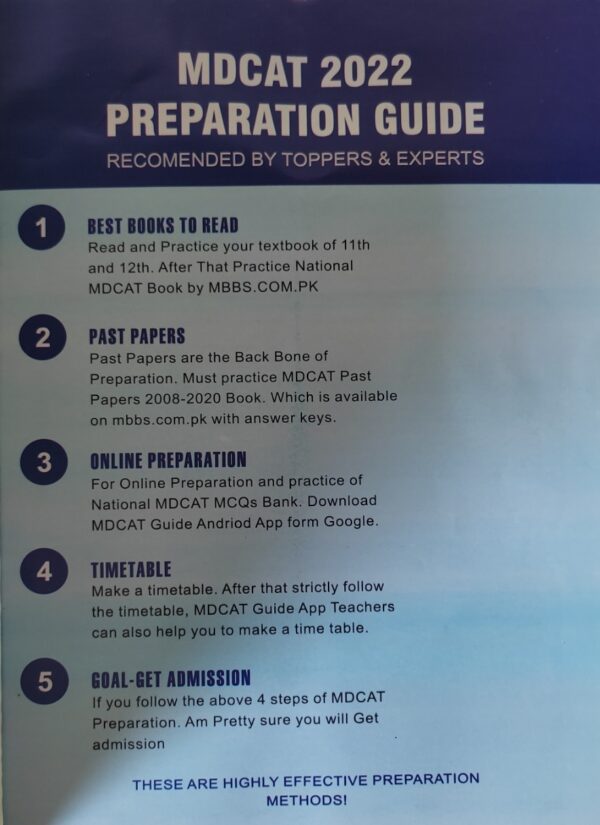 National MDCAT Book Latest Edition For 2024 – MBBS.NET.PK
Books Sold: this Month: 512
The Most Selling Book for all MDCAT Students. National MDCAT Book is the Most demanding Book as Most of the Toppers used this Book for preparation.
Note: The National MDCAT 2023 Edition is now Available. Order now (Cash on Delivery) to get the Discounted Price.
Book Features
5000+ MCQs with Answers
Designed According to PMDC MDCAT Syllabus
Subject wise Preparation
Practice Papers.
Note: You will receive the Book within 24 Hours
In Stock
Description
National MDCAT Book is the most demanding book by students all over Pakistan. The Latest Edition of 2024 of the National MDCAT is out Now. If you want to score more on MDCAT, then this book will be your best friend. From a huge MCQs bank to lots of practice questions, this book has it all. Wait, I am not done yet! You will also get all the past papers in this latest edition.
Yes, all the past papers and their solutions are available. A lot of effort went into creating this product for you. Some of the top professors worked hard for this. We got help from MBBS students and toppers to compile this book as well. So without wasting any time, grab your copy before it gets out of stock
Not convinced yet? No problem. Maybe you want to listen a bit more about it. This article will explain everything about this National MDCAT book's latest edition 2024. We are sure that we will convince you after this.
So without further ado, let's get into it.
National MDCAT Book By PMDC
The Latest Edition of the National Book for the Year 2024 is out now.  Many toppers prepared through our book and got positions. Those days are gone when all you had to do was prepare from your textbooks only and you could get high marks in MDCAT. Nowadays, with all this tough competition, you have to put in a lot of extra effort. Last year, more than 80 thousand students took MDCAT.
Yes! The competition is this much and it is not going to decrease. You know what? Don't buy this book. All you will be missing is a better chance to prepare and get a lot of practice material for your MDCAT preparation. You will only miss out on your stronger chance to get admission to your favorite medical college. But if you do want to have this practice material, you should buy this book. Because having a huge MCQ bank for practice is important. We will be discussing how this is later in the article.
But before you read anything else on this page, here are some reasons why most students not only get good marks but also get positions.
National MDCAT Book is  According to the PMDC MDCAT Syllabus.
Top Professors contributed to our book.
Each Year the Book is updated.
Subject-wise MCQs.
Get Solved Previous Year Past Paper.
Why Choose National MDCAT Book?
Getting Good Marks in MDCAT is every student's dream. Our Book is the most selling and demanding book as most of the MDCAT Toppers studied from the National MDCAT book. Not only This our Book is listed as the Top Book to Prepare for MDCAT by PMRC.
Do you remember we talked a lot about practice material in this article? Yes, we will now explain the importance of that. Practicing is essential when you want to strengthen and retain your knowledge for MDCAT or any other test in the world. There is an important saying about practice,
Everything we do is practice for something greater than where we currently are. Practice only makes for improvement. – Les Brown 
Hence, if you do not practice, then you are not improving. You are just wasting your time. And time is of the essence when you are preparing for MDCAT. So if you are not practicing your knowledge by solving past papers or other practice questions, then you are only wasting your time.
Want to know something else interesting? If you cover your textbooks only and then practice sincerely using this book, then you do not have to go to any academy for preparation. And those academies cost a lot. You will be saving a lot of your money if you just work smartly.
Features and Description of the National MDCAT Book 2024
Now, let's get serious. Let's talk about what this book has to offer. You probably came across a lot of other products in the market as well. Those products will just tell you what they have, but we care about you. We will tell you how our book is going to help you. So let's get right to the business.
5000+ MCQs with Answers – We just mentioned how much practice is important. With more than 5000 practice questions, you will have adequate opportunities to test your knowledge, identify your shortcomings and improve. This will also help you retain full knowledge.
Designed According to PMDC MDCAT Syllabus – Now, we do not want you to waste your time on questions that may not appear in the National MDCAT. Some preparation books claim to have a lot more MCQs, but there is no use in wasting time on material that isn't going to help you. We believe in working efficiently.
Subject wise Preparation – It is always convenient when you have all the MCQs arranged subject-wise. You can focus on a single subject first and test your knowledge on it first. This will be helpful.
Practice Papers – You practiced through subject-wise questions, but that is not going to prepare you for the real thing. Practice papers are going to serve as mock tests for you. You can set a stopwatch and attempt these papers in a limited time. This will imitate the real MDCAT-like environment.
Past papers – A lot of questions are repeated from past papers. Paper setters sometimes do not have so much time to create new questions each time. So, questions repeat.
Final Words from us
So, we hope you are convinced now that this product is going to help you achieve your dreams. With all the competition in MDCAT, this can be a game-changer for you. And we are offering you so much on such a limited budget, this is the deal of the lifetime for you. Not only do you get past papers, but a lot of practice papers as well. This will prepare you for the MDCAT. So without any delay, order your National MDCAT book now before it gets out of stock. We wish you the best of luck in your future endeavors.